Posted by Dr Natasha Cook on 1 June 2015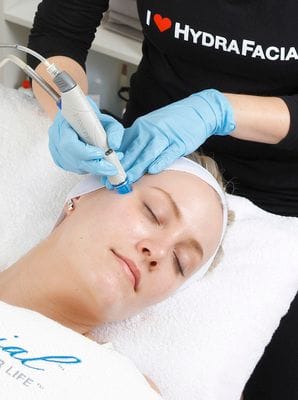 Excerpts from Stephanie Darling's article in the SundayLife magazine - Beauty section - Sunday 23rd May 2015
Article Title: Road Test..........
This week I try.......the HydraFacial
The lowdown With the weather cooling, it's all about getting my sensitive skin prepped for winter. This non-invasive exfoliating treatment uses a machine that targets all the trouble spots by cleansing, extracting and hydrating simultaneously, using a multifaceted spiral abrasion tip combined with preloaded serums that soften, lift and extract sebum and impurities. This juggernaut targets fine lines, sun damage, blackheads, enlarged pores, excess oil, hydration and puffiness. At the clinic they work over my thirsty skin meticulously with the clever tip, which has a sucking motion that vacuums out impurities while depositing the nourishing serums.
Pain factor Once again, no pain. I need to get out more.
Downtime 30 minutes
Results It is exceptionally satisfying to see the soupy contents of the waste container. (Is that too much information?) My skin lapped up the serums and I now feel really hydrated and super clean. Even my pores are smaller.

**Check out Ivanka Trump's website she loves the HydraFacial MD. www.ivankatrump.com