Diagnosing and creating the right treatment for you
The most important step is your initial consultation allowing us to create the right PLAN for you.
The initial consultation is the evaluation of the patient's problem in combination with an overall evaluation of the patient's face.

Muscle relaxant injections are the single most effective way halting the ageing process and preventing wrinkles. If you are serious about stopping ageing and having youthful skin you need to get serious about adopting these treatments into your routine.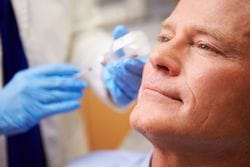 Non-Surgical Anti-Aging Treatments
The most important first step is your initial consultation and the evaluation of your problem and potential for improvement.
Learn about the consultation process
Wrinkles
Forehead lines, frown lines and crows feet can be treated by injections of a muscle relaxant which softens those lines. Treatment takes 15-30 minutes and the benefits last 3-4 months.
Learn about Muscle Relaxant treatments
Deeper lines and grooves
These are caused by a loss of volume in the skin and fat of the face as we age. They often occur on the middle of the face running along the cheek or chin. They can be improved by injecting a natural dermal filler under the groove which restores the lost volume.
Treatment takes 30 mins. The benefits last 6-12 months.
Laser treatments
Laser Rejuvenation treatments are a new and revolutionary technique that use various types of lasers to remove unwanted skin blemishes and reduce the effects of ageing on the skin.
Excessive sweating
Is caused by overactive sweat glands in the armpits. This can be treated by small superficial injections under the skin of the armpits which inhibit the activity of the sweat glands. Treatment takes 15-30 mins. The benefits last 6-12 months.
Skin peels
Gentle peels are performed to improve skin tone, colour and texture. These take 15mins to perform. Your skin will feel pink and mildly flushed for a few hours.
Skin care products
Professional Dermatologist-designed skin care products are available at Darlinghurst Dermatology Skin & Laser Clinic and can also be purchased online from boththis websiteand Dr Cook's personal website at natashacook.com