ProFractional Laser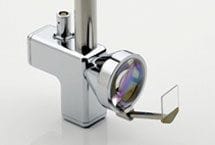 The ProFractional laser treatment produces thousands of tiny micro thermal zones in the skin which then allows generation of new collagen cells. The result creates a more youthful and vibrant appearance, minimizing skin imperfections. A fractional approach to resurfacing means that only specific areas are targeted using lights that are delivered in small, closely spaced micro beams, both the epidermis and dermis are penetrated. Only a small proportion of the skin receives the laser light, while the other zones in between are left intact.
This way, the skin heals much faster because only fractional damage was caused by the heat of the light source. Because areas are left untreated it also means more treatments are required.
The micro injured cells start the process of healing with collagen remodeling. The healthy unaffected tissues help to fill in the damaged are with new cells.
The skin tightens and its texture improves. The treatment is comparable to a pixel by pixel retouching of a digital photograph.
The ProFractional Sciton is an ablative fractional laser treatment, that removes micro-columns of damaged skin tissue, resulting in a deep thermal response with excellent and fast results. ProFractional instantly ablates the hot debris from the tissue (skin), reducing pain and irritation and speeding recovery.
ProFractional uses unique pulse that maintains precise control of micro-channel diameter at depths from 20 microns (.02mm) to 1500 microns (1.5mm), which is the skins thickness in some areas of the face.
The clean micro-channels close and heal rapidly for faster recover than non-ablative fractional.
ProFractional can be used to treat wrinkles, acne scars, skin tone and texture. ProFractional reduces unwanted collateral damage by instantly removing necrotic tissue and unnecessary heat providing you that patient with a more comfortable treatment experience.